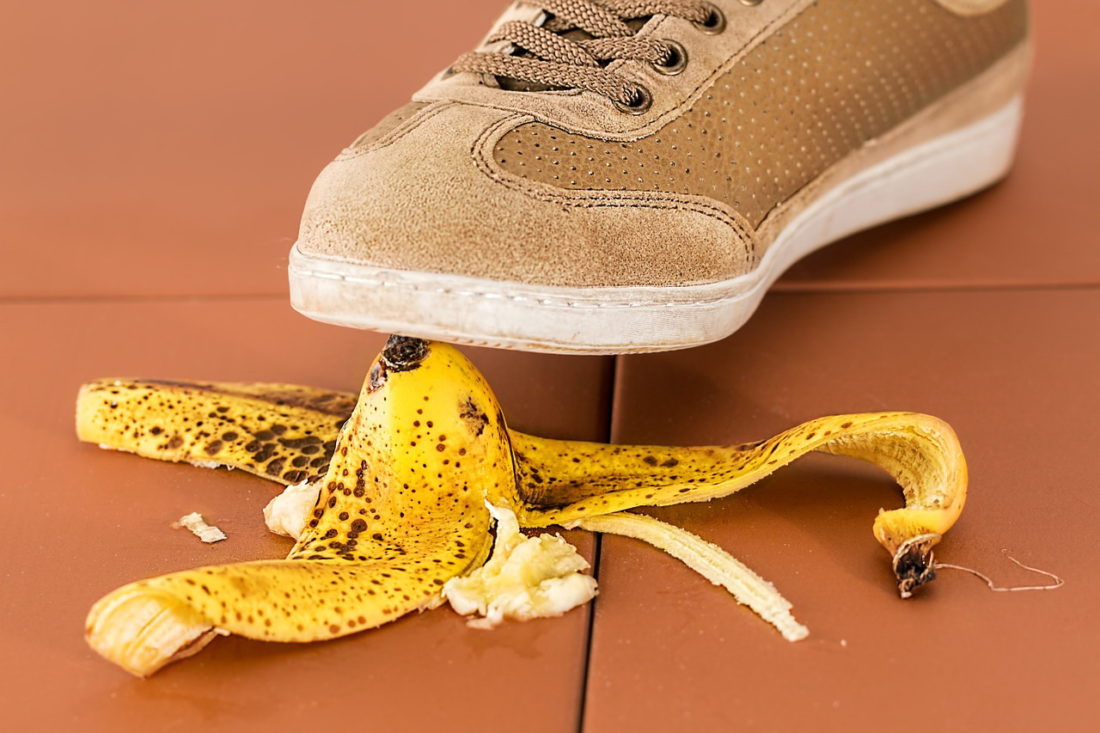 A slip and fall sometimes called a trip and fall is a personal injury case where a person slips or trips and falls one someone else's property. Slip and fall cases are part of a larger category called "premises liability" cases. Sometimes slip and fall accidents occur on property or in a business that is owned or maintained by someone else. In this instance the person who owns the business and the property owner may be held legally responsible.
Slip and falls can happen for a variety of reasons and under a myriad of conditions. On a public or private property there may be aspects of the property that are dangerous. Everything from a broken sidewalk, to a pothole or protruding tree root, or water pooling in an area that has not been well maintained can cause a slip or trip and fall. In a business, if there is loose carpeting, spills, poor lighting, or furniture that is placed in a walkway, a slip or trip and fall can occur.
Conditions for a Trip and Fall Case
Typically, it is not enough for a dangerous condition to exist on a property. There must also be proof that owner was responsible for the dangerous condition that created the slip and fall. This could mean that the owner was negligent in repairing the dangerous condition or careless in not seeing the dangerous condition.
Also this dangerous condition must present an unreasonable risk to a person on the property. Finally, the dangerous condition must have been a condition that the injured person should not have anticipated. A person who is injured in a slip and fall is expected to avoid any obvious dangerous conditions and to do all they can to avoid a slip and fall.
Slip and Fall Cases Are Difficult to Litigate
Slip and fall cases are very hard cases to prove because there are typically many factors involved that contribute to the accident and each can be viewed in a different and sometimes contradictory light. Slip and fall case experts like Oakland injury law firm the Dolan Law Firm, PC are experts at working through the facts and details of these complicated cases and doing everything possible to win the case for their clients.
Slip and Fall Cases Can Take a Long Time to Litigate
Often a slip and fall case is against the city or state government, a large property owner or a successful business.  When these groups are the defendants, they will typically put up a vigorous defense in a slip and fall case causing it to take a long time to settle. Often their strategy will be to tire out the plaintiff and frustrate the plaintiff's attorneys.
Because these defendants are so well funded, they can cause a lot of challenges in even the most obvious slip and fall cases. This is why it is important to get a great attorney who will stay focused on your case no matter the challenges.
Slip and Fall Cases Often End in a Settlement
Slip and fall cases because of their complexity will often end in a settlement if things go in the plaintiff's favor. A plaintiff will often want to win outright and get the full damages sought in the case, but an attorney will often advise the client to take a settlement rather than risk an unfavorable outcome or spend the extended length of additional time fighting the case.
This is why having a passionate and skilled attorney representing you is important. The attorney will always look to take the smartest route and strategy in your case. If this means that a settlement is the best strategy, they will advise their client to take this option.
Laws for slip and fall cases vary from state to state. If your case is filed in Oakland, CA, and you need an injury lawyer Oakland CA has many, but none more skillful than the Dolan Law firm. You should contact this passionate and experienced set of lawyers to ensure that you are well represented in your slip and fall case.